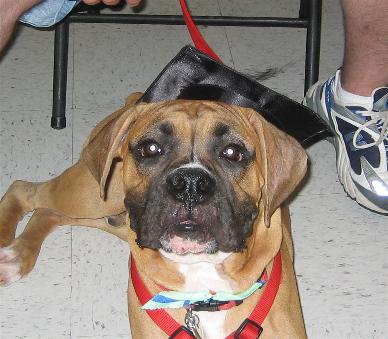 HI my name is Rocky Pargola. I was named after Rocky Balboa from the movies. I am a Boxer. I was born on October 13, 2005 (remember that date- send presents). We live in Northeast Philadelphia. My mom and dad brought me home three days before Thanksgiving when I was only 5 weeks old. When I got to my new home, there were tons of toys and treats and a nice soft bed to sleep in (not that I needed it, I just wanted to sleep in their bed- it is more comfy and I wonít out grow it too fast- they might but I wonít!). They tried to make me sleep on the floor next to the bed but I was too smart for them and figured out how to get up on the bed in only a few days (cry until they let me up). Do you blame me?
For my first Christmas, my parentsí took me with them to Maine to see my grandparents, Nana & Papa, and my other relatives. It was a long trip but I slept most of the way. I got to experience my first hotel room. They have very big beds. Everyone bought me new toys. I love Christmas. I got to meet all my momís relatives and my cousin Max. It was so much fun.
This Christmas, we stayed in Philadelphia and spent the day with my dad's family. They stayed up all night on Christmas eve. I thought I was never going to get to go to sleep. When they got home from some place they call church. We opened lots of presents. They had a bag of new toys and treats for me. It was great. But I was very tired and slept all day on Christmas.
We live near my dadís family. I get to see them quite often. Mom-mom takes care of me 2-3 times a week while my parentsí work. Sometimes, Mom-mom takes me to go visit my sister, Ali and her family. On the other days of the week, my friend Robert, from Where the Heart is Ė Home pet sitting service, comes in to feed me lunch and play with me. By the time, I wake up from my mid-morning nap he is usually on his way. We have tons of fun. When he leaves, I play a little and then take an afternoon nap until my mom comes home for a little while. She usually is tired so I curl up with her and go back to sleep. After work, my dad takes me for a W-A-L-K (they donít know I can spell too). Then I take my pre-bedtime nap and go to bed between 10 and 11pm. Itís a great day.
In August 2006, I graduated from Puppy School at this great place called Petsmart. I learned to do tricks and how to walk nice.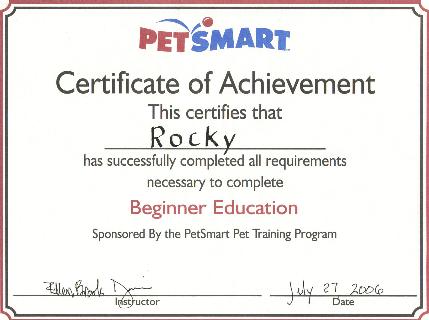 On October 13, 2006, I celebrated my 1st birthday. My sister and her family came to my birthday party at Mom-mom and Pop-pop's house. My Mom bought ice-cream for all of us to enjoy. I even got some new toys and lots of bones and treats. It was a great time.
Some of my favorite things to do are: Sleep, play ball; rough house with my dad; play video games with my Uncle Robbie, Sleep, swim in pools that donít have water, getting into dirt and digging, take baths, sleep, play outside and make new friends. My favorite places to sleep are: my mom and dadís bed, the floor (anywhere I can find), the couch on my blanket, by the door, by the bedroom window and in the upstairs hallway.
Enjoy all the pictures of me and my family.
Love,
Rocky
If you ever need someone to watch you, check out my friend Robert at Where the Heart Is - Home Pet Sitting.
If you want, e-mail me: rocky@pargola.net
Check out some other pictures of me: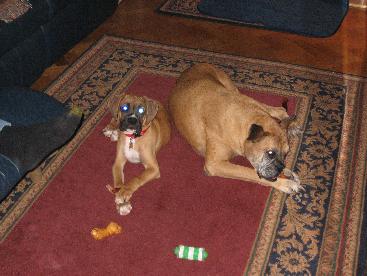 Chewing a bone with my Uncle Sandy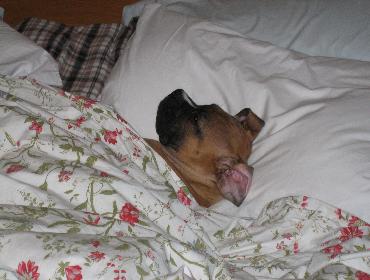 Napping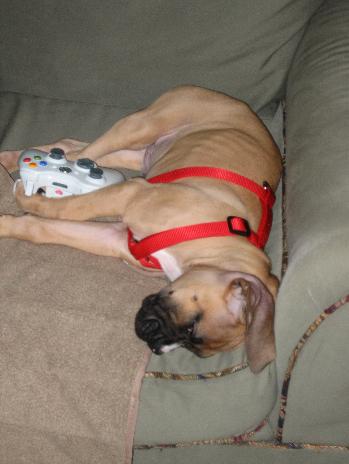 Sleeping after a game of Madden on the X-Box 360 with my Uncle Robbie.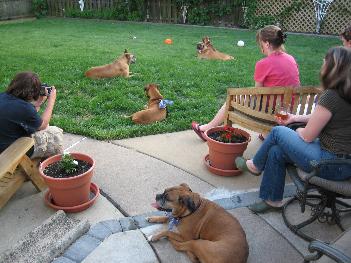 A lazy afternoon with Emma, Roxie, Ali, and Uncle Sandy.